If you are looking for some science in your science fiction, this book is for you!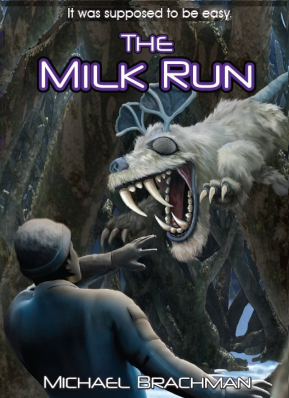 Aason Bierak is a not-so-ordinary 21-year-old man living in the 35th century. He and his 16-year-old sister Lupe take a quick trip to the home of Planet OMCOM, a computer the size of Earth, to upgrade a crucial piece of equipment. The trip was supposed to be easy, so easy Aason's father dubbed it a milk run. After Aason and Lupe complete the upgrade, Planet OMCOM convinces them to test his latest invention, the Null Fold X-drive. This new star-drive could be the key to unlocking the galaxy.

During their first excursion into Null Space, disaster strikes. Strange beings, made solely of light, pluck Lupe right out of their spaceship. Aason's only clue to her whereabouts is the last three words Lupe spoke to him before she disappeared. Embarking on a desperate search, Aason travels 68 light years to the Nu2 Lupi star system where he is assaulted by man-eating creatures, hostile colonists, walking-talking plant people and a bodiless entity named Molokai that thinks it is a god. Aason discovers his only hope of rescuing his sister is to climb aboard the largest starship ever assembled and travel at unthinkable velocities to a dimension beyond comprehension, a place where his very soul could be in jeopardy.

Set in the same universe as the Rome's Revolution trilogy, The Milk Run is cinematic in scope and offers an adventure filled with intrigue and meticulously researched hard science. It even has little green men! Will Aason find his long-lost sister? Will he lose his soul along the way? Find out in the action-packed science fiction novel The Milk Run.

The full-length novel is 89,000 words. Click here for a sample. The Milk Run now available in Audiobook form. Click here for a 5 minute sample.